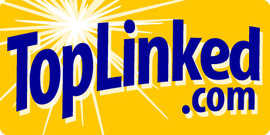 TopLinked is a service you can use to download lists of people looking to be invited to your social network as well as put your email address on those lists for others to invite you.  They support all the major social networks, and quite a few of the minor ones including LinkedIn, Google+, Facebook, Twitter, MySpace, Ecademy, Xing, Bebo, Blue Chip Expert, Friendster, hi5, Konnects, Affluence.org, Naymz, Orkut, Perfect Networker, Plaxo, Ryze, Tagged, UNYK and Viadeo.
Downloading a list is free, placing yourself on any of those lists is not!  To get on the lists it costs $9.95/month $49.95/year.  They also have an affiliate referral system which gives you $5 for every person who joins using your referral id.
Given the popularity of TopLinked (numerous people refer to it in their LinkedIn profiles, and I've seen it spoken of positively in various corners of the social web) I had expected the lists they made available to paying customers to be quite large, a combination of lists culled from the various open networking discussion threads on social sites and their own pay to play list.  To my surprise the lists were in fact quite small, more likely just their their paying customers!
Here are the some of their more popular lists and their relatively modest sizes:
LinkedIn: 1,800
Twitter: 1,050
Facebook: 700
Google+: 700
It is important to note that the real value of TopLinked is in being the recipient of other people's invites and not your having to invite everyone.   Sites liked LinkedIn have limits on how many people you can invite (3,000) but no such limits on how many can invite you.  Also, being invited requires less work (generally) than inviting, so pointing out the small sizes of the lists is not meant as a slight against TopLinked, it's simply sharing the reality that if you are not going to pay to be on a TopLinked list then you can do much better building a list on your own.   If you'd like to harvest your own open networkers list and get many more users (LinkedIn example shown), we show you how.
In my experience being on the TopLinked LinkedIn list results in roughly 20-50 inbound invites per day (depends on the day of the week), which translates into 900 invites per month, or 11,000 per year.  Are 11,000 invites worth $50 (that's about $0.005 a connection)?  That's for you to decide.
TopLinked is a trademark of TopLinked.com.